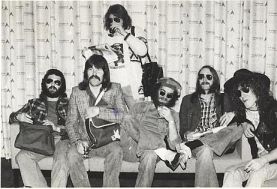 There seems to be no sign of musical rejection following the Lindisfarne transplant of a few months ago when the body was sawn in half.
The mind (Alan Hull) still seems to be ticking over nicely and the heart (Ray Jackson) beats as strongly ever with all the newly grafted limbs kicking away like mad. Just how healthy they are mind and body we have been able to assess from their joyous appearance on Reading Festival and the sneak preview I heard of their new album under the working title "Don't Rip It…I'll Take It By The Yard" which I heard last week.
Jacka, who remains the personification on stage of a man who believes you can enjoy yourself as much as the audience, told me last week what we can expect from the new Lindisfarne on tour. 
"I think we've broken through a musical barrier, with our new members, so that we can do more than just swingalong songs. It got too easy with the old band and our enthusiasm wilted because we were just repeating ourselves. We'll still do Fog On The Tyne and Lady Eleanor because you can't disappoint all those who expect those songs but we won't do songs like Meet Me On The Corner. There'll be new rockers from our album, such as Moonshine which our bass player Tommy Duffy wrote, and Tow The Line which our pianist Kenny Craddock wrote, and maybe our new single."
"If anything I think there'll be more fun and games on stage."
With the excellent material on their new album – much of it written by their new members, a new P.A. system, new lights and the old spirit – this British tour could see Lindisfarne's feet firmly under your table once more.