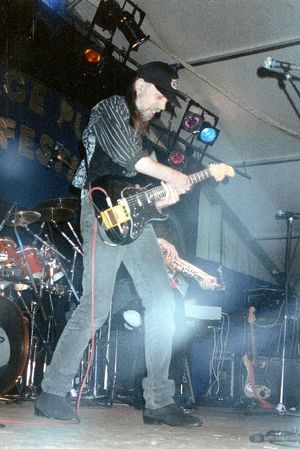 By Tim Joseph, Nov 1991 - discovered by Michael Clayton
Rod Clements is best known as the bass player in Lindisfarne, but this year he will have appeared in the area in three guises: as a solo artist, with Lindisfarne and as a member of the part-time project Pacamax. Where? spoke to him prior to his recent solo gig at the Processed Pea in Etton about all three projects. Lindisfarne will be appearing at Hull City Hall on December 15th.
Starting with his solo work, I asked him whether the gig was part of a tour he was doing: "No, it's just a one-off. The solo things are more-or-less to request, really. If somebody I know phones up and says 'Do you fancy playing?' then if I can fit it in I say 'Yes please, that will be fine'. But I'm sort of developing a taste for it, increasingly."
A solo album is on the cards for next year, although nothing is definite yet. It won't however be all original material, but will include some of the slide and blues numbers that Clements includes in his live set. His press release includes the comment that 'Rod's approach to his material acknowledges the influence of American ballads and blues from pre-Woody Guthrie times to today'. This is not something he has chosen deliberately however: "I think it's something that's been there all the time, and the solo work gives it the chance to come out. I mean, my first love is the slide guitar. And that in a sense is why I started doing the solo work in the first place. When I was the bass player in the band, it had nothing to do with my guitar playing, and I wanted to develop that. And it's as a result of having developed it, that I've shifted from bass guitar with Lindisfarne. But the American roots stuff, it was one of my boyhood enthusiasms anyway: blues and American folk and prison songs and stuff like that, and being continually interested in blues guitar, slide guitar particularly, it sort of points you towards that sort of repertoire."
It's hard to believe that Lindisfarne have been back together for 16 years now, even though they originally only survived for four or five. "When I look back on the original period, it almost seems like another lifetime, it seems so long ago now. Certain things remain very vivid, but as a whole period, it could have been different people." How does he feel about the band's original classic albums, such as Nicely Out Of Tune and Fog On The Tyne? "Particularly Nicely Out Of Tune, I look back on very fondly and still enjoy hearing it. I don't put the old records on very much, but they were a lot of good fun in the making, and there were so many ideas. Everybody was coming up with ideas, off-the-wall things. And some of the things don't half rock on in today's terms. I was quite surprised when I've heard stuff like Road To Kingdom Come, it really shifts along."
Clements is best known for writing Lindisfarne's big hit Meet Me On The Corner. Doesn't he ever get sick of playing it? "No, I don't get sick of it. It seems to keep regenerating itself. It's funny, there are still some songs with Lindisfarne that we've found we play exactly the same as when we started off: Meet Me On The Corner is one of them, Lady Eleanor is another. Whereas something like Fog On The Tyne gets revamped every year." Especially when over-rated footballers take it back into the charts, I suppose.
So which is his favourite Lindisfarne LP? "At the moment it's Amigos (the band's last LP, from 1989). It's got my favourite crop of songs on from recent years. I think some of the performances could have been better, but you always think that." Although the band are touring as usual this Christmas there will be no new album in the Shops to tie in. "We've been recording for most of this year. I think the actual record in the shops is still a long way off. I can't see it being out this side of Christmas. What we're actually doing is making tracks for the American market which may or may not be finished masters. They may just end up being demos, so we'll have to wait and see on that. There are some good songs coming out, and new production techniques, a new producer waiting in the wings, a change of line-up in the band."
What?? "Ray Jackson's left. It had been coming for a long time I think, actually. Unfortunately last year he was only able to do the Christmas shows. We'd done quite a few festivals in the summer without him and we'd been half-expecting a decision for quite a long time. But in one sense we were quite well prepared for it when it came." I suppose that means no more Z Cars or Blaydon Races solos anymore. Speaking of line-ups, I wondered why they had made a saxophonist a full-time member of the band. "He just fitted in so well. But it's going back a long way now. He's been touring with the band for seven years now, and been a full member four years."
With Clements' increasing interest in playing more basic music, will the new Lindisfarne LP see them retuning to their roots? "I would certainly like to, and I would regard that as being my sort of input to Lindisfarne. I think that's one of the reasons I liked Amigos because it had a strong element of that in it. At the moment I would say we are retaining quite a lot of that, in the present crop of material, although maybe not directly. There's one song I'll be doing tonight called Black Rain which it lends itself pretty much to that rootsy treatment. Certainly, we're continuing to use real sounds, real guitar sounds, real piano sounds. If we're using an acoustic guitar now, we really make it sound like good acoustic guitar, rather than multi-layered walls of acoustics that we used to do at one time."
So will Lindisfarne last indefinitely? "I can't see any reason not to do it. If any of us got tremendously interested in doing something else, then we could always give it a rest, or just get back together at Christmas and do whatever we like the rest of the year, but there's no reason to knock it on the head. We all get on tremendously well with each other, we have done for years. We're not going to fall out now. We understand each other's differences, and we leave space for everybody to have their head. We construct the band's show now to make sure that everybody gets the chance to show off what they're good at."
If it did fall through, there's always the part-time band Pacamax. How did that come about? "Pacamax is a good-time band, which was a down-time activity, it was just something we decided to start doing for fun, playing strictly R & B covers and standards, no original material allowed, which takes a lot of pressure off. And it was a different combination of people, people like Billy Mitchell and Jed Grimes, who are long-standing friends and members of the same Newcastle circle, a sort of extended family of musicians who weren't exactly in the same band.
The band's last gig in this area was at the Duke Of Cumberland in Ferriby, a joint venture between the Processed Pea and the Hull Street Freaks: Who? "Well, we were playing at Hull City Hall about four or five years ago, and we got a call from a bloke called Mike Cartledge, who said 'I've got a motorbike, it's a custom Harley called Lady Eleanor decorated with scenes from the song. How would it be if I came and set it up in the foyer for tonight's show?' And we said 'Great, it sounds wonderful.' He put a little display round it, and the bike was absolutely knockout. And Mike works in a bike workshop, a full-time job. He and his mates are the Street Freaks, self described custom maniacs, who do up old Harleys and such like and travel around to bike shows and things. And we hit it off really well with Mike and the rest of the gang, and then they started showing up at other Lindisfarne shows as well and Pacamax shows. And I got talking to Mike about slide guitar one night, and I happened to mention that I was having difficulty finding the gauge of brass bottle-neck that I was used to. Because I bought the one I was using then in London about 12 or 15 years ago, and they didn't make them anymore. So he said, 'Let's have a look', and he said 'I can knock some of those off for you, no bother at all.' So he took the dimensions and made a couple of prototypes, and they're just the job. Apparently they were quite hard to make, but he's just invested in a new lathe, so we're thinking of knocking them out on a commercial basis. So if anybody's interested, contact me or the Hull Street Freaks!"
Tim Joseph