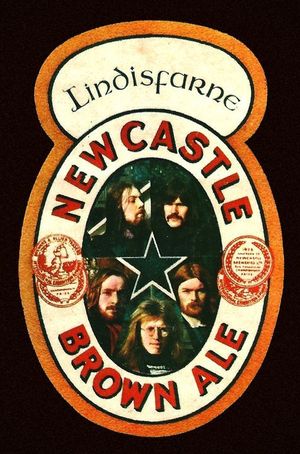 A Special Report by Jerry Gilbert from Sounds Oct 7th, 1972 - discovered by Michael Clayton
"Five crates of Brown ale and a crate of Guinness please." Twelve quid across the bar to a landlord shaking his head in disbelief, and then back to the gig."What time do they start?" asked a couple of public bar boozers. "7.30," I replied, observing that it was already 7.45.
"But I mean what time do Lindisfarne go on 'cos we want to go down later," they came back. "About 9.30 I should think." I hadn't the heart to tell them that all the seats were long gone even though the concert had been deliberately hushed up. There we were, right in the heart of Newcastle, standing outside the Haymarket, the one time Lindisfarne local and now the scene of the reunion, six crates of beer to get backstage – into the car of Joe Robertson, the previous manager of the band, and back to the City Hall. The concert was underway and the army of groupies who had earlier queued at the stage door had evaporated. Likely they'd either taken their place in the queue, climbed in through the toilet window, tagged on hopefully to the group, or taken a forlorn walk home. 
One disconsolate chick remained. "Are you with Lindisfarne?" she asked resignedly without really seeking an answer as we transported our cargo through to the Lindisfarne dressing room. Eight hours earlier the Newcastle City Hall had looked chillingly empty – a few faces dotted about the auditorium, mostly belonging to the group themselves. Nothing much to look at on stage, only Alan and Mick, two of The Who's sound men, battling to get fifteen thousand dollars' worth of equipment the same as propelled The Who safely through their recent European tour, into working order. A mike wasn't working, there was a heavy buzz that couldn't be eliminated – earthing problems.Very little activity save for the char lady, fussing around with pail, mop and dusters. "There's a terrible lot of seats in this hall," she gestured to no one in particular. "There's all the ones upstairs as well as all the ones down and I've got to be here tomorrow to clean up all tonight's mess."
But at least the weather was good, and had been since 9 o'clock the same morning when we'd crossed the Tyne and landed at Newcastle airport. The sun was breaking through and the mist was beginning to lift from the shrouded city centre. Little activity as we drove in – down past St James's Park (the Magpies were away at Everton) down to the Swallow Hotel. A view of St James's floodlights from one side, Gateshead sprawling out from the other. But the great awakener had been the garbled conversation with an effervescent cabbie on the road in. Sure he knew the lads were back in town because he'd seen the midweek Tyne-Tees TV documentary and he'd remembered digging the chick singer… but Newcastle were away at Everton and London was the best city in England because there was so much to do and Newcastle was really a drag because there was so much rubble and debris about….. Ah well, another romantic myth shattered. 
The band arrived in dribs and drabs – Si in a tam o'shanter, Ray in his farmer's get up, Jacka fresh faced and with his bird, Rod, submerged beneath his umbrella hat. Lunchtime down the Haymarket with a few familiar London faces but mostly with old Geordie friends of the band – people who had helped the band, played with the band, drunk with the band . . . and people who had just admired the band from a close distance. Alan Hull shows for the first time and a cheer goes up, but Hully was cursing that his night on the town had not led him to the Fairports' gig, which turned out to be an alcoholic reunion of group past and present. 
Meet Me . . .
Hully borrows a pen, produces a scrap of paper and starts to scrawl down a running order for the gig that night. "Meet Me . . . . .," "Float me . . . . .." Someone immediately sees the joke and starts singing "Meet Me, Float Me, Touch Me." A dozen Geordies dissolve into laughter. Lunch break over and back to the City Hall. Hully slouches into a front row seat with his Yamaha still plugged in to the amp. He picks away resignedly at some familiar Lindisfarne themes so the sound men can take a balance. 
Geoff Heslop, an old musician friend of the group's and lately with The Callies, can't believe the skyscraper bank of space age speakers that flank upwards like a couple of Empire States. "I mean, they don't even look like speakers," he mutters incredulously, trying desperately to reconcile this with the folk band he once knew. Did they have to go through all this palaver just to do a show for their mates at the City Hall? Comedians.
But Geoff realises that there's pride involved these days. "If it wasn't for the music more people would be on the dole, and the depression would be worse than it already is," he remarked. "Everyone up here is so involved that way. I mean for a long time there's been a hell of a lot of musicians here whereas Liverpool, for instance, has generally produced comedians. Up here it's different because there's an inferiority complex and you can see it all ways. For instance if the first two months of the football season goes by and Newcastle haven't been on Match Of The Day, letters flood in to say that there's prejudice. But now that Lindisfarne have made it the big eye has turned on Newcastle, and I really think the band have got something to shout about. It's like all north-east bands, there's so much force behind their music and I think it stems from the feeling of being ignored.You know, at the time of people like Bruce Welch and Hank Marvin it was a disadvantage to say you came from Newcastle but now it's an advantage to be a Geordie."
Geoff belongs inexplicably to the Lindisfarne clique and plays in the Peter Brophy Band with another old Newcastle musician Terry Morgan who was with Alan Hull in Barabas. Later that afternoon we drove up to Geoff's place in Jesmond – right past Exhibition Park, off Windsor terrace in Newcastle 2. And if you happen to remember the park before the bulldozers hacked  their way through one of Newcastle's most beautiful habitats you'll know why Alan Hull wrote "All Fall Down."
Back in the boozer at opening time: Andy Andrews proudly displaying the court jester's outfit in which he intended compering the show which was now only two hours away. Also in the  backroom bar Jeff Sadler, who quit Lindisfarne before their vital move to London. Others study the Football Pink hot off the presses. It's Saturday night in Newcastle.

Suddenly we're joined by a rather anxious looking mum who seems to know everyone. "Hello Sal," rings the choral greeting from the bar. "Have you seen Alan, he's not been back for his tea. I had chicken cooked for him as well."

She proceeds to explain how she's been forced into alternative accommodation because the authorities have decided that the house she's occupied for years is too big for her. The principle doesn't seem to bother her, she's no time for principles, it's just that she can't suddenly be uprooted and transposed elsewhere. But tonight nothing is really that important as Mrs Sally Hull picks up a ticket and makes her way down to the City Hall to take her place out front.
Stackridge fell right into the spirit of the concert that night like they knew exactly what was needed; especially Mike Evans, clowning around at the front as his fiddle drove familiar themes into the hearts of music loving people who were there simply for the entertainment. It was sheer music the audience assembled in families, like a pantomime crowd there for the annual outing – the old 'uns, the kiddiewinkies, the tarts and all manner of working class people. When the band were playing, they clapped along, when they finished they cheered.
"Slark" closed a very shrewd set indeed with Mutter doing some amazing things. The band finished, assembled at the front of the stage and took their bow as one man. That did it. The crowd went mad and back they came to pile it on even further with "Dora, The Female Explorer."On came Andy Andrews, a shambolic, buffoon of a man, who by virtue of these unlikely attributes is just about the greatest comedy act on Tyneside. His speciality is jumping off his feet and landing on his knees. Tonight he was doing no such thing, as he'd spent the afternoon up the local infirmary as a result of an earlier unhappy landing. 

It was obvious throughout Rab Noakes' set that suddenly Lindisfarne were all that mattered. Rab, backed ably by Robin McKidd, was somewhat out of it, failing to project as strongly as usual, and engendering a little impatience in an audience who had been entirely receptive at the outset. "Everywhere You Look It's There," "Goodnight Loving Trail," with McKidd playing beautiful slide, and "Drunk Again," were the numbers that really earned him his money.
Lindisfarne made their way on stage like cup finalists emerging from the Wembley tunnel. "Stooooop! We've lost Alan. Where's Alan?" came the cry. "He's having a piss," screams Jacka, whereupon Alan gaily sweeps past the lot of them and onto the stage like he'd planned to steal scene whatever. "Meet Me On The Corner" did materialise first off and then a newly arranged "Float Me Down The River" as planned – the highlight of the entire set and a beautiful instance of nostalgic Lindisfarne from around the time they split to London.
Already it was the sort of gig you wished all your friends could have been at. "Go Back" followed and Jacka hadn't a chance to make himself heard during the introductions. "How are you all in Newcastle, we haven't seen you in a long time," egging them on constantly. "This one's a number from a few years back . . . . . . . .and it got to number three . . . in the charts" (when will they start cheering?) "Aye, in the charts . . . . . . . . . 'Lady Eleanor'."
Then "Wake Up Little Sister" and "Poor Old Ireland" with Clements on autoharp, "Dingly Dell", a number I would prefer with Jacka taking the choruses on harmonica rather than mandolin, a slower, more pronounced version of "Alright On The Night". Then "All Fall Down", the excitement at its peak and Hully on pianostooping to his voice mike and almost kissing the keyboard in the process. "No Time To Lose", "Court In The Act" and of course the City Hall audience know all the songs off by heart – after all the new album's been out several weeks now. "Fog On The Tyne" marked the beginning of the extra-curricular aberrations with an improvised Bo Diddley style work out. Similarly with "We Can Swing Together" which, good people, in the interest of economy now features "Dingle Regatta" amidships.
Back came Rab Noakes and Robin McKidd for the final encore – Lonny Donegan's "Battle Of New Orleans", with Stackridge's Mike Evans and Andy Davies grinning in appreciation from the wings; it was a smile of self satisfaction, a smile of admiration and a smile for the audience, bearing in mind only too well how the crowds turn out when they return home to Bristol.
The whole of Plainsong along with Simon Nicol turned up at the City Hall the following night to see Lindisfarne's set – a set that was unusually slick and devoid of the passion which they had earlier put into their music. In terms of excitement, Sunday seemed to be the lull after the storm although on a purely musical level it was superior.
Communication between Genesis and the audience (which included 32 coach loads of fans who had travelled from all points) was laboured, and although the band evoked loud cheers they often seemed perfunctory ones. Flashes Even when Peter Gabriel left the stage during "The Musical Box" and returned hideously garbed in long red dress and fox's head with a nod in the direction of their new album sleeve, the sudience remained relatively unmoved. Finally during "Return Of The Giant Hogweed" some genuine appreciation was shown, and the two giant flashe that went off midnumber seemed to wake everyone up.
Maybe the mistake was in starting a Sunday night concert at 7.0 p.m. – especially in Newcastle. 
Backstage after the show somebody forgot to keep their eye on the stage door and suddenly the place was overrun with autograph hunters. Somewhere in the middle was Hully's mum who'd slipped back to pay her respects. "Great" was all she could say, tears in her eyes. "Both nights – just great."
Bringing It All Back Home
There's nothing like a pint back in the old town for bringing it all back home, and it was during a lunchtime session at Newcastle's Haymarket that Lindisfarne's Rod Clements began to reminisce and cast his mind back to the earliest beginnings of the group. By the time last orders were called he had pieced together the entire Lindisfarne story – prior to them coming to London and signing with Charisma.
"We had this record contract with Morgan Studios in London, and I'd earlier rejoined the band because I could see the opportunities of getting to London," he explained. "I joined about halfway through after leaving to take a general arts degree in English, Anthropology and Ancient History, and Jacka joined about the same time – he's singing on half the tracks and a guy called Richard Squirrell is on the other half. Jeff Sadler was our guitarist at that time – a really good guitarist but he left because he didn't want to go to London and he was also involved in college.
"But it was very much a transitional album, leading away from the blues things we were doing and into the kind of thing we're playing today. But the newer side is really the worse side because whereas Jeff was fine for what we used to do he wouldn't really have fitted in with what we're doing now. "The album contained a couple of Si's things and a couple of mine 'Road To Kingdom Come' and Si's 'Uncle Sam' and also a funny thing called 'Jimmy's Field' and another song that I rate called 'From My Window' – we recorded that for 'Nicely Out Of Tune, but it didn't really work out.
"As far as 'Nicely Out Of Tune' goes I wasn't very happy about the individual sounds although the production was pretty good and if we could have made that album with the slight heaviness we've got now it could have been a knockout."
Lindisfarne, as we know the band, evolved out of the original Downtown Faction for which Si Cowe was initially roadying. He joined the band on bass when Rod went off on holiday, and on Rod's return it transpired that he was also a pretty good guitarist – and that's how he became a group member. But in a sense the band dates right back to 1963 where Rod and Richard Squirrell were in a band at Durham School. In 1965 they quit school and teamed up with Ray Laidlaw in Impact, which also featured featured the old Junco Partner Bob Sargeant. By 1967 the group consisted of Rod Clements, Ray Laidlaw, Richard Squirrell, who had recently returned from Canada and Jeff Sadler. "But we sacked Jeff and brought in Don Whittaker, who later turned up in the Spirit Of John Morgan.
Si Cowe joined the band and in 1968, when Don Whittaker eventually left the band, Jeff Sadler rejoined. The same year Rod left the band in order to take his finals, playing his final gig at a hugely successful festival in Newcastle. Si took over on bass and Don Whittaker rejoined the band which was now operating with two lead guitars.
"Later I went to see the band at Durham and with the two lead guitars they were bloody great, so I phoned Ray in December 1968 to try and rebook them for Durham and I found out that Don had since quit. They carried on doing some quite interesting things, side tracking into different things, and at that time I was trying to form a band with Noel Johnston and he knew Jacka who was in a band called the Autumn States; he tried to get Jacka to join but he wouldn't, and our band never got off the ground because he couldn't find a singer and a drummer. "Downtown Faction asked me to rejoin them and this time Jacka did join us in the second half of 1969.
"By this time we were more or less professional and London looked a possibility. Ray said he'd go if things looked good and this was the time we were starting to get off on the folk thing more; Jeff felt a bit out of it so he left at Christmas, and it was whilst doing folk clubs that we met Alan Hull. Alan had played with the Chosen Few around 1965 but then faded out completely and it wasn't until 1969 that he became active again.
"Ray used to drum on his demo sessions at Dave Wood's Impulse Studios and then Alan asked me to join a band that he was forming which was another nail in the Downtown Faction coffin." Downtown Faction became Brethren and Alan Hull spent more and more time with the band. "So when Alan joined we had two managers – Dave Wood who'd been managing Alan and owned the studios and Joe Robertson who was our manager. "So when we signed up with Strat (Tony Stratton-Smith) we asked him to buy us out of our management contracts which he did. - He also bought the rights to the Morgan album.
Raps At Random
Tony Stratton-Smith (the band's manager): "At the time I signed them different managers were looking after Alan Hull and Brethren, but my real interest was in the group as a whole with Alan making occasional solo albums. "I heard a demo tape with 'Road To Kingdom Come' and I think it was 'Turn A Death Ear' (sic). I'd heard of Alan Hull from folk buffs and always thought of him as a club singer, but I realised on one hearing of the Brethren tape that Ray Jackson could do for the harp what Ian Anderson had done for the flute.

"I think the one thing that excited me about Lindisfarne was the magic of the songs and the balls of the performance. I love affirmative music – music that affirms life: although if they had come down two years earlier they wouldn't have been the band that they are. "I signed the band for recording and it was obvious they would have to come to London. Neither of their managers really wanted to come to London so they asked me to take them on for management. A deal was worked out for Joe Robertson and Dave Wood which involved a small sum of money and five percent management override for a period of two years. I think that it worked out pleasantly for both of them.
"We put the band on at the Marquee on a Sunday night supporting an American band, Raven, there were only about 50 people there and the group were pretty miserable. I remember encouraging them by saying that within six months they'd be turning people away from the Marquee because there was no more room. - "And that's exactly what happened."
Dave Wood (Alan Hull's publishing partner and former manager): "Alan used to play with the Chosen Few at the Manhole Club in Wallsend and I own the studios upstairs. That's how I got to know him and how mad he was. They had songs like 'Today, Tonight And Tomorrow', 'Big City' and 'Won't Be Round You' which were pretty big, and I remember we went down to London and booked four places in a Bayswater hotel which ended up accomodating nine of us. On top of that we broke the washbasin and got thrown out.
"But the group fell apart and Alan formed Barabas. Two of his songs were recorded, including 'Grey'. Originally the only reason I got involved with him was because he made a demo £25 at my studio but he only paid me £10. I used to keep pestering for the rest until I realised he had no money anyway, so I thought 'if you can't beat 'em join 'em' and I became his manager.
"I have tapes of about 280 Alan Hull songs, all of which you could safely get the group to do now. I find it difficult to come across a song I don't like. Alan was always a little ahead of his time – he changed my way of thinking completely and some of his early songs like 'Schizoid Revolution' were frightening."
Joe Robertson (former manager of Brethren): "I came into contact with Dave Wood because I was managing Junco Partners and Gin House and would always be down at Dave's studios. He'd never stop talking about Alan Hull, and by early 1970 he was a star attraction.
"I started managing Brethren, who were really hard up, and I remember Jack virtually walked the nine miles from his house to see me. Alan and Brethren started to play together more and more, so Dave and myself decided to go to London and set things up. "I'd earlier been managing Charlie Harcourt who by now was with Jackson Heights so I decided to go and see Tony Stratton-Smith at Charisma. "By the time the deal was signed Alan had joined Brethren but Strat said there was product in the States by a group called Brethren and we had to change the name. Charisma wanted the new name pretty quick and I immediately thought of a local name – Prudhoe Street Mission – but a few hours later Lindisfarne was born.
"During that three month period from June to August we were so enthusiastic we were out of our heads. We'd do some ridiculous things because we could see the group were going to make it – like we took a £10 gig at Kirk Levington Country Club and took out a £15 advert for a gig in the Middlesbrough paper. We had so much nerve at that time that we wouldn't mind screaming at anyone in London. But in the end they wanted Tony to manage them. They needed to progress and we realised he could do much more for them than we could. There hadn't really been enough money there behind them – if it had, things might have been different.
Barbara Hayes (Alan's partner in Hazy Music): "I was working as press officer for Radio Luxembourg and they were holding auditions for their talent search. I went up to Newcastle and someone said to go to the Manhole Club in Wallsend where Alan was playing with the Chosen Few. They were the only Newcastle band who were any good at the audition, and as a result they made three records for Pye.
"But I retained an interest in Alan's songs, and in 1967 I managed to elicit his address. Eventually Dave Wood brought some tapes down to London. I was interested in his voice and he was a natural songwriter. "In 1969, Alan, Dave and myself formed Hazy Music and the first song we had was 'We Can Swing Together' which Alan recorded for Transatlantic. "I always knew Alan's songs would make it, but Charisma had done a marvellous job. Even so, I'm surprised how quickly it's all happened.
Mrs. Sally Hull (Alan Hull's Mum): "Alan was always a villainous child."