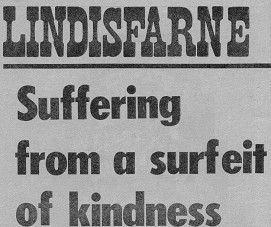 Charles Shaar Murray, NME, September 2nd, 1972 - discovered by Michael Clayton
If it were ever possible to kill a group with kindness then Lindisfarne might be the first victims of their own success. Their new album Dingly Dell (Charisma) is out to rapturous reviews and their new stage act has been equally well received by reviewers and public alike. At the moment they are the darlings of the Biz without a cloud on the horizon. It's almost all too good to be true.
Fortunately the individuals in the group are level headed enough not to be affected by all the rhapsodising and are probably their own best critics as drummer Ray Laidlaw pointed out during our interview. At the same time he managed to shatter a few cherished illusions about the legendary Newcastle brown-ale swilling Geordies.
"Awful beer," quoth Laidlaw supping his Guinness. "I stopped drinking it at sixteen – it sends you crackers you know!" On the subject of objective criticism about Lindisfarne he was more elaborate.
"We've never been really 'slagged' in the press y'know. Which is really a bit of a disappointment. I mean, even the Beatles and the Stones got 'slagged' at the height of their popularity and T.Rex are a good example of being knocked because they are successful. In a  way I think knocking's a healthy sign! "Everyone is really nice to us – I mean we've done some really shitty gigs – real stinkers, and we come off stage and have a shout up about it back in the dressing room. Then out come the reviews that are really good, and we can't understand it.
"The ironic thing is that if someone really did put us down hard we would probably be heartbroken. We can come off and say it was 'disgusting' or 'awful', but it's totally a different thing if someone outside the family starts to have a go.
"Fortunately, I think we know our weaknesses as well as our strengths but occasionally it might be nice to get a little more constructive criticism to help us see ourselves more objectively. We're not really great musicians but we make good honest swingalong music which communicates the basics, and we're beginning to learn how to make good records at last.
"We were going through a very critical period just a few months back where we were going on stage to play those numbers we had been playing for about two years and it got to feel like going through the motions. "Everyone knew all the songs and it got to the stage where we hardly needed to sing them because the audience could do that for us and it is at that point where you are getting a kind of total acceptance that it can be dangerous.
"It means that in spite of re-arranging the old material and trying to inject some genuine spontaneity and enthusiasm into the music, you are still only repeating yourself. The next step is boredom, and the next after that is the audience become bored and then you are really in trouble. 
"We finally managed to get out of that situation by taking a break and getting all our new material down, which has brought back a feeling of freshness to the act – so that we actually look forward to playing our newer numbers. Some of the oldies like Fog On The Tyne, Lady Eleanor, Meet Me On The Corner and We Can Swing Together will be incorporated into a medley.
"I think our approach now is far less localised simply because we are travelling more and our experience is widening. The roots remain in Newcastle. Our home is in Newcastle but it's not the obsessional subject some might think from reading our press. It got to the stage where there used to be about five crates of Newcastle Brown in the dressing room before a gig and we really didn't like the stuff."
Cobblers
Laidlaw was not sure how they got the reputation of being a hard drinking band although, like most rumours it has some foundation in fact as a few rounds with Jacka might prove. What of their much lauded new album, which was produced once more under the general direction of Bob Johnstone?
"You'll see we've deliberately played down the gimmicks by having it released in a brown cardboard sleeve with just the title and the group's name," said Laidlaw. "It's a deliberately anti-packaging idea. It's definitely our best work in a studio and we had a much better working relationship with Bob Johnstone this time – and more time to record.
"The thing about the other two albums we've recorded was that there were 'cringe' factors. After we'd finished, we'd listen to it and go 'Oh no' – maybe no one else would notice or hear them but we knew they were there. With Dingly Dell there is nothing like that – we can still listen to it weeks after we've completed it and feel satisfied with the job. 
"The single is a very different number for us – I'm sure most people won't even realise that it is Lindisfarne at first. All Fall Down is a protest song for want of a better description. It was inspired by the Newcastle City Council decision to drive a motorway through the heart of the old part of the town.
"It's got much wider implications, of course, because this type of so-called development is going on all the time. Tearing down beautiful old buildings to put up disgusting office blocks and drive motorways through cities is happening everywhere."
Under the heading of other matters arising we got stuck into some egg and chips – got the wine waiter to bring over the Guinness and reminisced about Lindisfarne's first American tour. 
"Working with the Kinks was a great kick for me because they've been one of my fave raves for years. I mean, well before they had their first hit single when they were doing things like Long Tall Sally. The thing which really struck me about working with them was what a great feeling it must be to wind up your act with You Really Got Me and know it was your own number!"
Ray's particular 'magic moment' (give us a kiss Perry) on the tour was not the Carnegie Hall, or even Lubbock where, despite the absence of alcohol, the group went over big with the Texans, nor because of the taxi driver pointing out where Buddy Holly used to live. The most enjoyable aspect of the tour for Laidlaw was a gig they did in a 'glorified Wimpy Bar' into which they had inadvertently been booked in San Francisco and Fairport turned up one night to jam a few old rockers and R&B favourites like Smokestack Lightning.
"In all there were approximately 15 people in the place but we had a ball."
On their forthcoming tour Laidlaw was ecstatic over the inclusion of their old mate Rab Noakes, who wrote among others Together Forever on the Fog On The Tyne album. 
"The really nice thing about having your own tour is that you can pick the people you want on it with you," said Ray. "We think that Rab is in his own way as great an artist as someone like Neil Young, and his songs . . . well the fact that we have never used anyone else's material should speak for itself.
Most groups have some kind of method for relieving the tedium and the strains of touring and, quite apart from drinking, our intrepid Geordies have now launched upon a campaign with Ray Jackson as Lindisfarne's answer to Boris Spassky on dominoes. They also bring their own dartboard to gigs.
"I mean, I laughed when they brought it with us on the American tour," said Ray. "But darts are really a great way to relax before a gig and I particularly enjoy it because it gives me something to do while all the others are tuning up." Other matters arising concerned one 'Tappy' Wright who managed the group and was formerly renowned as the Animals' meanest road manager due to his insistence of warming up cold meat pies on his car engine rather than go into a transport café.
Those were the days of Laidlaw's old group the Druids and Alan Hull's Junco Partners, who had their own show on Radio Luxembourg for a time.
The group recently took their publicist Glen Colson up to Newcastle for a holiday, from which he is still recovering, and introduced him to the delights of the working men's clubs and the Wingate Constitutional Club where an old and much respected local group, Tex Leon and the Tynesiders, are resident.  That was the night that Jacka was so moved by their rendition of Johnny Kidd's (his personal musical guru) Hungry For Love and Shakin' All Over that he got up on stage for an un-super-jam!
We also discussed the idea of presenting this article in such a manner as to make it the world's first critical 'slagging off' for Lindisfarne. Ray was much taken with the idea of inserting his own crossheads into the feature which quite often in magazines bear no relation to the copy.
Piffle
"You know the idea – you get paragraphs broken up with boring things like 'Thrilling', 'Sometimes' or 'Startling' and then you read the copy and the words aren't even there. How about putting things like 'Rubbish', 'Cobblers' and 'Piffle' in our feature."
Finally we returned to the subject of their current album and Laidlaw recommended one track as particularly worthy of attention. "It's got this very heavy lyric set to an absurdly simple backing. We even pinched a Joe Brown guitar riff for the middle which was most embarrassing because he turned up at Charisma Records the other day while someone was playing this particular track upstairs.
"Either he didn't notice or he was too much of a gentleman to mention it but anyway the track is called Bring The Government Down!"
"What inspired that?"
"Edward Heath," said Laidlaw dead-pan.

And a slight contradiction in the same edition:
NME What's On Pull-Out
Garden Party Preview
Yes At The Palace 
Plus The Wondrous Lindisfarne

Lindisfarne have passed into legend as the world champion consumers of Newcastle Brown Ale, and as the only British band produced by popular folk-rock mastermind Bob Johnstone. But what matters is the music. Once upon a time a blues band called Brethren, they were transformed by the addition of harpist and mandolinist Ray Jackson (Jacka to the world) and singer/songwriter Alan Hull into the wondrous Lindisfarne.
English music is a truly wonderful thing. Aside from the electric traditional music of Steeleye Span, there've always been such homegrown stalwarts as the Kinks playing music that relates directly to English life, and Slade who since the lamentable demise of the Troggs are the only true expression of English punk rock.
But the key to Lindisfarne is this: they're lotsa fun. What's more, it is undeniable that singing drunkenly along with We Can Swing Together and Fog On The Tyne are among life's major joys. Of course, they're gonna have a new stage act for this gig but the principal remains the same.
Your round Jacka.
Charles Shaar Murray