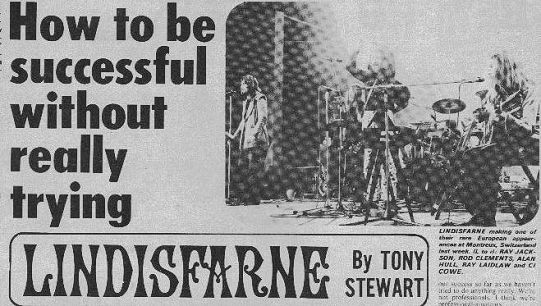 Tony Stewart, NME, May 13th, 1972 - discovered by Michael Clayton
We're looking," said Alan Hull thoughtfully, "to create a brilliant album. Obviously we strive for perfection. Like 'Abbey Road' and 'Sgt. Pepper', Lindisfarne's third album is going to be a whopper. "It won't really matter if it doesn't get to number 1. We can feel artistically proud of it. Which we will do. I'm sure."
The Newcastle boys have ambition. And it's good to hear such honesty in keeping with northern traditions. Basically Lindisfarne are a folk group. They appeal to a majority of people, and with their stage performances rekindle the band/audience relationship, resulting in a festive atmosphere. The band has recently returned from America. The tour proved a good one, if only that it matured and developed the band's outlook. "The most hardening effect," Hull told me, "was that we came together. Five people being alone in the great wide United States brought us closer as people. "It didn't really affect the music that much, because it was already there. But it's got a bit tighter. That's natural.
WEAKNESSES
"I've been told a first tour of America can either make or break a band: I think it's made us. We know ourselves better as musicians now." This is good because, as the band admits, the first two albums did not engender confidence in themselves mainly because there were too many weaknesses delaying group maturity.
Explained Hull: "I think the shortcomings were on our side because of a lack in experience as a new band. But it obviously hasn't come through to the public as the second album reached no. 1, and the first album (Nicely Out Of Tune) – after two years – is still selling well. So they can't have been that bad. "We're artistically happy with them. In fact sometimes I've been delirious with happiness, because there are certain moods I can be in." Added Si Cowe "I don't think the songs on Tyne were particularly ordinary. It's that they were similar. The actual songs themselves were quite extraordinary really. It was Bob Johnston (producer) who treated them similarly. 

TASTEFUL
"He didn't have as wide an appreciation for them: for the things we wanted to put in. "He looked for a hook," said Hull once more taking control of the conversation, and he found the Lindisfarne thing. Nobody can blame him because he's been proved right. And it got to no. 1. "Even the production of Fog On The Tyne is first class. It's really tasteful, beautiful." Yet Si is more prone to criticise the production.
"What we could of done is play roughly through and got a good backing track together. Then the shortcomings wouldn't have been in the backing tracks so much, but in what went on top of it.
"If we'd listened enough, and knew more about production and commerciality we could have changed it ourselves. And worked Bob Johnston instead of him working us."
"We're at our best stage," Hull quickly points out in defence. "We're not that often in studios. We're not really a studio band. But we can be in the hands of a good producer, like Bob Johnston. "But if we can get the stage feel to a studio situation with Bob – which we're trying for with the next album – it'll be something. It really will be one of the albums to have forever."
Though Hull and Si argue about it moderately, Fog according to some criticisms, did expel a certain ordinariness in material Now after a three week rest period they are going to continue a policy of stringent selection and collation of material. 

REWARDING
Even though unable to rehearse, the lay off proved highly rewarding. The writing rate, and build up of songs now presenting a fresh problem. "Now we've got a hell-of-a-lot of material," informed Hull. Si, Rod and me write a lot. Between us we've got over 300 songs."
"When you've got that much material it's hard to be objective about it. I've got so many songs I don't know which is good and which is bad. I prefer to leave it up to somebody else. The best people in the world to leave it up to are the record buying public. "The buying public in England obviously liked the songs on Fog on the Tyne, no matter what anybody else says. Though they're not my personal favourites." Making it once again obvious he wasn't happy with the last album, Si contributed: "What we'd like to do is make it our favourite numbers, rather than Bob Johnston's." "But we never do a song we don't like," clarified Hull as a measure of defence. "If somebody writes a song and one person doesn't like it, then it's out."
As yet, Lindisfarne's British success has not extended into Europe. But now they have the confidence and optimism to achieve that. The Stateside tour has given them the necessary impetus to reach the goal that drummer Ray Laidlaw once enthused about: To be, "the best group in the world". "Success brings confidence," Hull explained simply. "After America it was not so much a musical tightness, but a personal one. We all feel like that. We're at our best ever and more capable now." But we're not going to set out like total professionals to do it. Like dressing properly each night and being totally brilliant each night. We're just going to let it happen. It's happening to a certain extent in England. That's the whole thing about our success so far as we haven't tried to do anything really. We're not professionals. I think we're professional amateurs." "We're not a heavy intense thing, but we want it to happen. We're not going to try and push it though." Emphasised Si: "We just know it's happening all the time. We're not an overnight success. Because we haven't tried to push."