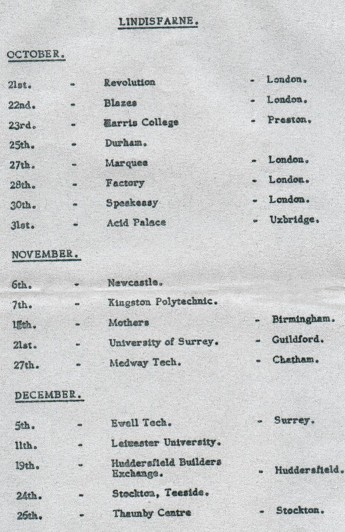 David Hughes, from Music & Disco Echo, 1972 - discovered by Michael Clayton
If there were any among you who doubt that Lindisfarne deserve their award there is one sure way to dispel those doubts – go and see them live.
I've raved about this group ever since I first received Clear White Light Part 2 just before Christmas 1970. Here was a sound that lifted me, refreshed and delighted. I played it for weeks on end, but then forgot about them – until Lady Eleanorwhich revived all the earlier enthusiasm. Since then they've become probably the only British group I've wanted to see on stage.  I was right. I left the Queen Elizabeth Hall last Friday feeling more exhilarated than by any concert since the first visit of Aretha Franklin. That's the feeling Lindisfarne generate, maybe not as exciting as a soul show but every bit as lifting and happy.
Theirs is Newcastle Brown music – "commercial pub" music as a colleague cryptically put it recently. And in fact the one item that scored with the packed audience more than any other was Ray Jackson's unaccompanied rendition of a Tyne-Tees TV jingle for said ale.
Apart from a warm stage personality, Lindisfarne score on two major fronts. Firstly Ray, Alan Hull and Tiny Simon Cowe are all exceptionally good singers. Ray has the deep rich full folk balladeer's voice, Alan's is higher and more sensitive and Simon, when he's given the chance, belts out some incredible high notes.
Secondly, they are all good but not self-indulgent musicians. Mandolins and open guitar are the main instruments – well no, really the voices are the main instruments. Add ti this an honest and endearing attitude towards singles (they like singles and they want a hit) plus the desirable tendency to make their songs too short rather than too long and you should need virtually no recommendation.
At the Elizabeth Hall, the five were greeted with a football roar of welcome. They announced every number to get the applause over with before starting, wasted little time retuning between numbers, were interested only in providing good entertainment and not amusing themselves, and played only 13 songs.
These included Lady Eleanor, Meet Me On The Corner, Fog On The Tyne, and as an amazing encore Clear White Light. I say amazing for the penultimate number We Can Swing Together, did last almost 30 minutes, including a 10 minutes solo contribution on harmonica from Ray, comprising snatches from many a shanty, folk standard, Three German Officers Crossed The Rhine, Z Cars Theme (greeted with boos) and others.
Two songs were brand new Alan Hull compositions – Poor Old Ireland, which provided the only serious moment of the evening and Mandolin King, being played in public for only the second time. By the time the evening was over, a good hundred of the audience were arms linked in a joyous hokey-cokey, support group Genesis were on stage joining in with tambourines and cow-bells and the atmosphere was just as if Newcastle United had won the FA Cup (though that's maybe an unfortunate analogy).
Lindisfarne are off to America soon, so you'll have to wait to catch them. Make sure you do.