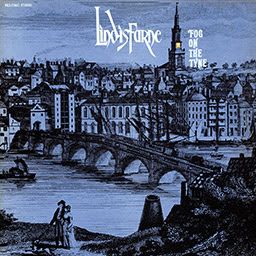 Picture five Newcastle lads touring in the overwhelming, monstrous United States.
The hustle and bustle can drive a country boy mad unless he relaxes, sitting on the edge of his Holiday Inn bed, watching the colourful street lights below. And it's all happening to Lindisfarne for the first time. To them it's mesmeric, unbelievable. Last week I talked on the transatlantic phone to drummer Ray Laidlaw, in San Francisco, and asked him for his impressions of the city. 
"I've always had visions of San Francisco as a hippie place , with lots of mist and Clark gable in it somewhere," Laidlaw told me. "I must have seen a dozen films about San Francisco with Clark Gable in them. So it's nice to see the place. It's like dreams coming true you know. But I haven't seen Clark Gable." 
On the first leg of their tour. Lindisfarne supported The Kinks – which they enjoyed. They didn't like New York very much – an intrusive, dehumanising place. But they were having good fun in 'Frisco.With temperatures around 85, they've been driving around town with their bare feet hanging out the station wagon windows. 
Laidlaw talked about the common ground they share with The Kinks. "The Kinks were good enough to let us use equipment they'd borrowed. We did eight gigs with them and it was really first class. The Kinks attract an audience who are interested in songs rather than instrumental virtuosity, and we appeal to a similar audience, so it was a really good idea being with them. The Kinks are really big over here and have full houses everywhere." 
Laidlaw said Lindisfarne were at first a little apprehensive about playing to American audiences. They really didn't know what formula to use. Then they realised people are the same all over, and they played basically the same as they do in Britain. One of the major problems facing British groups in America is the difference in size of venues. I asked him if he liked larger hall. 
"Yeah, I do actually. There was a time when we had difficulty, but not now. We seem to get a similar atmosphere in a large auditorium as in a club. We just chat to people and behave in the same way, and it seems to work. We've done some really big ones over here but the sound systems are so good that everybody can hear us."
"We can make little jokes or chat to the audience and you can hear every word – which isn't always as easy as in England." Laidlaw said they'd been well received so far – half way through their five-week tour. As well as hitting most of the major cities, they're doing some medium sized ones like Cleveland, Cincinnati and Lubbock, Texas. 
One gig that they're looking forward to is the Troubadour in Los Angeles which broke Elton John and Cat Stevens. I asked about material. Do they mind doing some of the older things like "We Can Swing Together"? "We change them all the time. Obviously you go off a song now and then, but you just drop it for a bit, then it comes up again. Over here we've been doing a lot of things from the first album and before, just to see how people react. We have a pretty wide scope as a band – we can go from folky quiet things to hard rock. "We want to try everything we are capable of, and see how American audiences react." 
Are any new songs likely to come out of the tour? 
"Oh, I should think there will be quite a few. It's such an experience coming here that it's bound to start things up in the little minds.But we're gonna have a holiday when we get back, and that should give us a chance to get some songs together. We've got some songs ready to be rehearsed already, and with the extra stuff we've got here we should be well on the way to the new album."
"Alan or Rod sometimes come along to a rehearsal with a song, and they'll sing it to us and if everybody likes it, we'll do it. But if one person doesn't like the song, we don't do it. It's as simple as that. We'll go all through that scene when we get back where we'll sit in somebody's front room and listen to all the new songs. 
"Then we'll pick out ones we want to do and go away to a friend's cottage in Scotland and learn them all. There we can be together 24 hours a day and rehearse when we want, play football, or go out and have a pint. We're friends first and a group second."
With their current single and album doing so well, I asked Laidlaw if there was any type of goal they'd like to achieve. "We'd like to be the best group in the world and be known for being the best group in the world. We're really not happy with everything we've done record-wise. I don't know if we ever will be perfectly happy, but we want to make a brilliant album before very long."
"We know we can do it. We've got everything that's necessary. It's just a question of learning how to do it properly. The last two albums have been good in different ways, but both had shortcomings. On the next one, we want to eliminate those things. We'll be using Bob Johnston again as producer." 
Laidlaw said he wasn't ashamed of all the hype they've had about coming out of Newcastle, because basically it was all true. They love the place and are glad they come from there. He thinks they'll always basically be a Newcastle band because that's where they started.
And so there you have it, my friends. The latest news from five Geordies touring in Wonderland. Drummer Laidlaw might leave his heart in San Francisco after all. Too bad Clark Gable wasn't there to greet him.