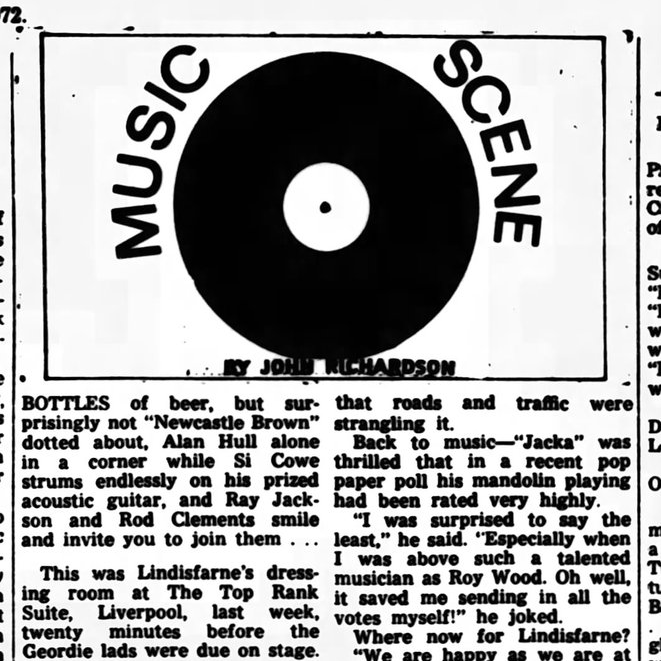 Ray Jackson - The Crewe Chronicle, 26/10/72
BOTTLES of beer, but surprisingly not "Newcastle Brown" dotted about, Alan Hull alone in a corner while Si Cowe strums endlessly on his prized acoustic guitar, and Ray Jackson and Rod Clements smile and invite you to join them… 
This was Lindisfarne's dressing room at The Top Rank Suite, Liverpool, last week, twenty minutes before the Geordie lads were due on stage. 
The whereabouts of drummer Ray Laidlaw are uncertain. The other four seem totally relaxed and refreshed considering they are almost at the end of an extensive British tour. 
Lindisfarne thrive on touring and were really excited at the prospect of appearing before the very knowledgable Liverpool audience. 
Ray Jackson said they loved playing at Liverpool because of the warm support they received in their earlier days. Now they were playing before a full house and they must have known that the audience were already won over to them before they had even played a note. 
It was evident that they were a happy group. "Jacka" said it was everybody's group, all the material had to be agreed on. "Although Alan's (Hull) songs are prominent we agree with his themes." 
"For example 'Poor Old Ireland', off the latest album, reflects the group's feelings as a whole on the Irish situation", he said. 
The question which had been in my mind as soon as I came in was where were the famous bottles of Newcastle Brown? 
"Jacka" completely shattered my drinking beliefs when he revealed that he couldn't stand the stuff. 
He explained: "Although this image has followed us about I'm afraid my stomach thinks otherwise. We do drink it occasionally but not as much as is made out. "
"Jacka" still Iives in his native Newcastle and is very worried about what is happening up there. "The whole place is being knocked about to make way for the motorway." he said. 
If you know Newcastle at all then you can fully appreciate the words of Alan Hull's song 'All fall Down'. Part of the motorway is going through a park where once some glorious trees stood. 
"Jacka" said this thing was happening nearly everywhere. 
He mentioned Chester, which was one oh his favourite cities, and said the signs were there that roads and traffic were strangling it. 
Back to music - "Jacka" was thrilled that in a recent pop paper poll his mandolin playing had been rated very highly.  "I was surprised to say the least," he said. "Especially when I was above such a talented musician as Roy Wood. Oh well, it saved me sending in all the votes myself!" he joked. 
Where now for Lindisfarne? 
"We are happy as we are for the present. We leave for a tour of America after the present British tour ends. If our popularity slips we will still go on playing because we are happy together," he explained. 
Proof of this happiness can be seen on stage. They are a very warm band and deserve every success they get. They do not give any impressions, like some successful bands, that they are on a higher platform than the fans. 
The concert went off as expected, with the packed hall swaying and singing along with the group, the numbers from the latest album going off very well. 
The slight difference, between Lindisfarne now and a few months back, is their musicianship. They are much tighter and combine together better in the instrumental breaks. This was  clearly shown in 'Plankton's Lament'. 
It was still, though, the earlier numbers which brought the highest applause… the roof almost came off after the rendering of "Fog On The Tyne'. 
For the encore number the lads were joined by friend Rab Noakes, who had earlier delighted the audience with his songs, and some members from Genesis, who also went down well. 
Lindisfarne were clearly delighted with their reception just as Liverpool was, with them.