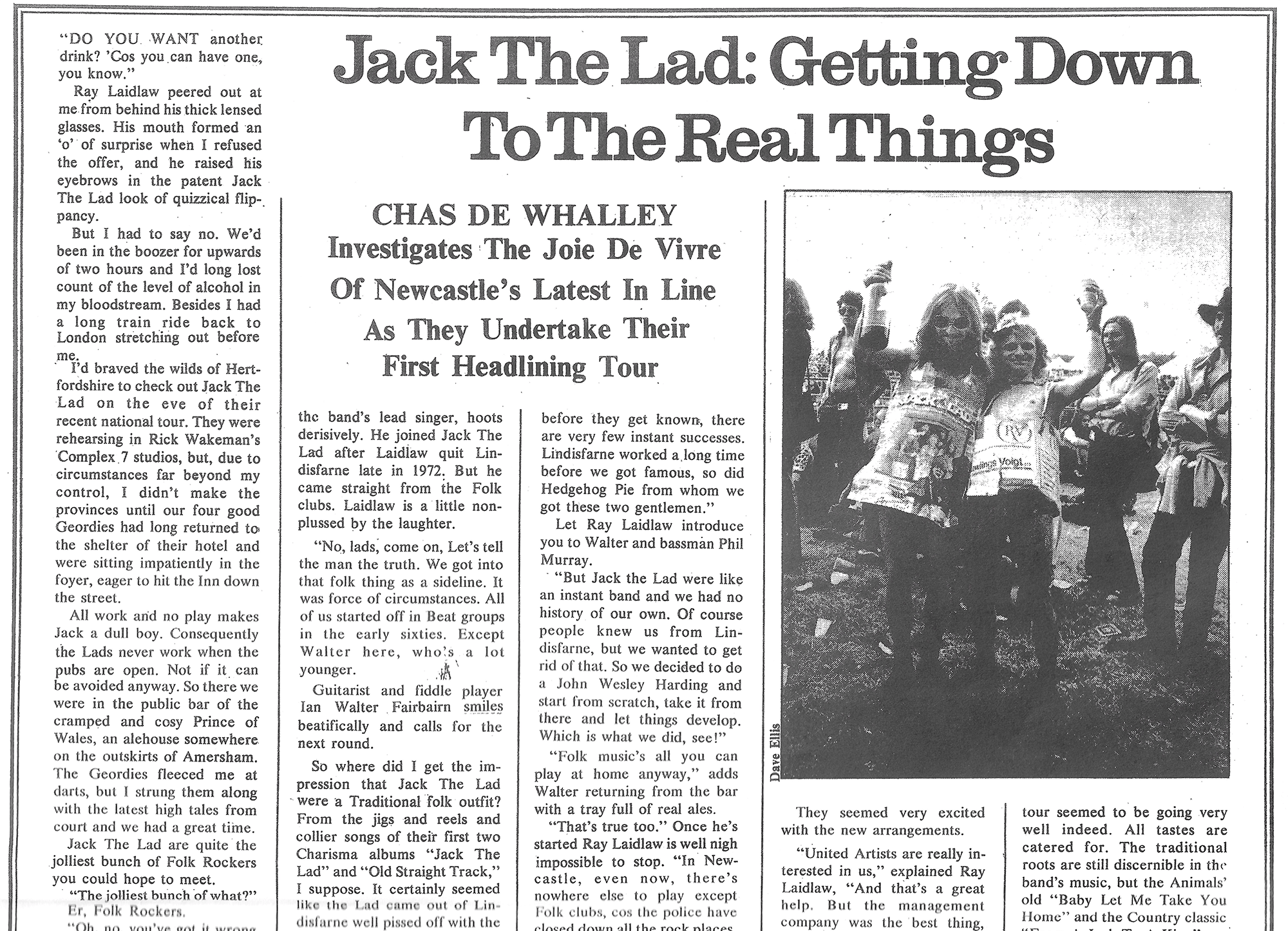 Chas De Whalley investigates the Joie De Vivre of Newcastle's latest in line as they undertake their first headlining tour. 
"Do you want another drink? 'Cos you can have one, you know." 
Ray Laidlaw peered out me from behind his thick-lensed glassed. His mouth formed an 'o' of surprise when I refused the offer, and he raised his eyebrows in the patent Jack the Lad look of quizzical flippancy. 
But I have to say no. We'd been in the boozer for upwards of two hours and I'd long lost count of the level of alcohol in my bloodstream. Besides, I had a long train ride back to London stretching out before me. 
I'd braved the wild of Herfordshire to check out Jack the Lad on the eve of their recent national tour. They were rehearsing in Rick Wakeman's Complex 7 studios, but, due to circumstances far beyond my control, I didn't make the provinces until our four good Geordies had long returned to the shelter of their hotel and were sitting impatiently in the foyer, eager to hit the inn down the street. 
All work and no play makes Jack a dull boy. Consequently the lads never work when the pubs are open. Not if it can be avoided, anyway. So there we were int he public bar of the cramped and cosy Prince of Wales, an alehouse somewhere on the outskirts of Amersham. 
The Geordies fleeced me at darts, but I strung them along with the latest high tales from court and we had a great time. Jack the Lad are quite the jolliest bunch of Folk Rockers you could hope to meet. 
"Jolliest bunch of what?" 
Er, Folk Rockers. 
"Oh, no, you've got it wrong there!" flashed drummer Ray Laidlaw with the kind of Tyneside accent I couldn't hope to imitate. "I think we're a Pop group. No, a Beat group. That's what we all started doing." 
The idea of Jock the Lad as a Beat group is met with much hilarity. Little Mitch Mitchell, the band's lead singer, hoots derisively. He joined Jack the Lad after Laidlaw quit Lindisfarne late in 1972. But he came straight from the Folk clubs. Laidlaw is a little nonplussed by the laughter. 
"No, lads, come on, let's tell the man the truth. We got into that folk thing as a sideline. It was a force of circumstances. All of us started in Beat groups in the sixties. Except Walter here, who's a lot younger." 
Guitarist and fiddle player Ian Walter Fairbairn smiles beatifically and calls for the next round. 
So where did I get the impression that Jack the Lad were a traditional Folk outfit? From the jigs and reels and collier songs of their first two albums "Jack the Lad" and "The Straight Old Track", I suppose. It certainly seemed that Jack the Lad came out of Lindisfarne well pissed off with the commercial aspects of "Meet Me on the Corner" and "Fog on the Tyne" and eager to get back to those Geordie roots. 
'No, no." Ray Laidlaw's eyebrows arched again. "We used that folk stuff for a reason. We did it to establish ourselves. Look at it this way. Most bands wait a long time before they get known, there are very few instant successes. Lindisfarne worked a long time before we got famous, so did Hedgehog Pie from whom we got these two gentlemen." 
Let Ray Laidlaw introduce you to Walter and baseman Phil Murray. 
"But Jack the Lad were like an instant band and we had no history of our own. Of course people knew us from Lindisfarne, but we wanted to get rid of that. So we decided to do a John Wesley Harding and start from scratch, take if from there and let things develop. Which is what we did, see!" 
"Folk music's all you can play at home anyway," adds Walter returning from the bar with a try full of real ales. 
"That's true too." One he's started, Ray Laidlaw is is well-nigh impossible to stop. "In Newcastle, even now, there's nowhere else to play except Folk clubs, 'cos the police have closed down all the rock places. That all finished in 1967 with Flower Power. So if you want to play locally these days you've got to play acoustic Folk places. 
"That accounts for the Newcastle Folk Rock sound everybody used to talk about. Your Lindisfarne's and your Prelude's. We were alright because we're a songs orientated band, and you can fit that into to environment. But if you want to play R'n'B like The Animals or heavier stuff like Jimi Hendrix, you don't stand a chance."
"Not a hope," Billy Mitchell laughs ruefully. "There's just nowhere to start. Like there are the pubs in London, but the doesn't happen in Newcastle. The only equivalent is the Workingmen's Clubs and half of your set's got to be chart stuff there. "
Our conversation was postponed while Jack the Lad swapped some amusing anecdotes from their four years together on the road. Four years in which the band has come a long way. After desultory appearances by other former Lindisfarners like Rod Clements and Si Cowe, Jack the Lad finally settled into the shape we see it now, but not before the band had stumbled through three unsatisfactory and unsatisfying albums on the Charisma label. Now a complete change of management has taken jack the Lad to United Artists and, when I talked with them the band was only a week away from a nationwide tour and the release of a new album, "Jackpot". 
They seemed very excited with the new arrangements. "United Artists are really interested in us", explained Ray Laidlaw, "and that's a great help. But the management company was the best thing, 'Cos we've been around quite a bit and people were beginning to say "Jack the Lad, they're all right, but they've not.. you know." But then Arnakata took us on beside Be Bop Deluxe, the Strawbs and Pat Travers and people are beginning to take notice again. Previously you see we were woking four or five nights a week just to pay the bills. But we can only work at our best if we have a bit of time to spare. This summer we could afford to take a lot of time off to do the album as well as put a bit more life into the act. And I think that's going to push us through. I mean we could go on filling smaller halls and colleges forever. But that's a dead end 'cos nobody knows about it." 
"We want to be on Top of the Pops, see." whispers Mitch Mitchell confidingly. The rest of the band laugh. 
Nevertheless, Jack the Lad really believe that they'll get there sooner or later. The tour will prove itself a great boost to The Lad's credibility. With New Zealanders Split Enz and club comedian Mike Elliot softening them up, Jack the Lad's variety act went down fine on the opening night in Aylesbury and from the reports the rest of tour seemed to be going very well indeed. All tastes are catered for. The traditional roots are still discernible in the band's music, but The Animals' old "Baby Let Me Take You Home' and the Country classic "From a Jack to a King" are there too. Mitch Mitchell is beginning to write fine Pop songs too. The wide variety of the stage show comes out in "Jackpot" and that is undoubtedly Jack the Lad's finest album yet. 
"Whichever songs we did, we tried to make them all sound like Jack the Lad, you see. There's Mitch's songs of course, but we also do John Hartford's "Steamboat Whistle Blues" and Andy Fairweather Low's "8 Ton Crazy" on the album. I think for the first time ever we've got the band's live sound on record."
Ray Laidlaw speaks nothing but praise of "Jackpot" producer Tom Allom. 
"He comes from a completely different background to ourselves. A Public School Man. We were very wary of him at first, but it helped I think because previously we'd worked with producers who were like the same as us." 
"He's all right our Tom." Mitch Mitchell stood up. "Anybody want a game of darts?" 
"Get your round first, Mitch. Don't slip off." 
Jack the Lad's got down to the real things in life.